SPONSORED REVIEW:
BangkokFace_Indo
Gem Fruit Pudding Cream
And
Lotus Sparkling Mask
Hello guys,
by last june i got this from bangkokface_indo...
never try any thailand skincare before.. i have heard so many reviews from so many bloggers but never ever try it once.. :p
maybe it's time to reveal about how grace the powerful of thailand skincare..
i got so very excited waiting my packet arrived...
who doesn't? this is primadona skincare in thailand..
and they said its very effective for acne problem skin .. which is description my face problem! haha
ooh come on, biggest lies if you say not interesting at all with these products :3
so if you like it, please keep reading my review!
enjoy..
here is the product i'm talking about:
front box bangkokface_indo gem fruit pudding cream
Expire Date bangkokface_indo
description bangkokface_indo gem fruit pudding cream
front box bangkokface_indo lotus sparkling mask
Bangkokface_indo boxes side to side
Lotus Mask and Pudding Cream
and here is about the swatches:
unboxing bangkokface_indo
small jar bangkokface_indo 15ml
Front side Pudding Cream and Mask in a small jar
cover jar bangkokface_indo
and here is the swatches
top: swatches pudding cream
bottom: swatches lotus mask
yellow mango cream: lotus sparkling mask
orange peach cream: gem fruit pudding cream
open jar pudding cream and lotus mask
swatches pudding cream and lotus closer and details
and here is the picture before and after used 2 weeks later:
Before using Bangkok face
(starting day)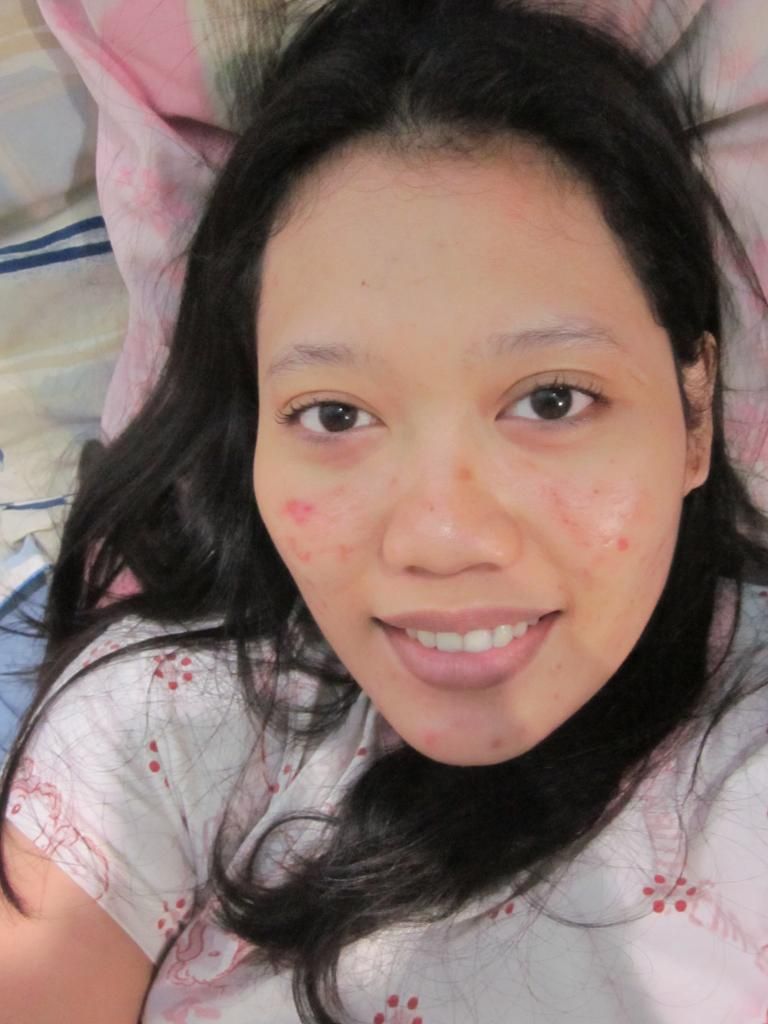 After 2 weeks
(no filter and no edit picture)
i won't talk much about before and after used this product..
because you can see it by yourself by this picture..
but all i feel my skin is lifting a bit, more elastic and look much brighter....
using skincare is not instant way to get glowing skin..
needs time, needs effort and also need patient..
this is my progress after 2 weeks using bangkokface_indo product..
maybe if i can using it more than a month, it will look great..
and each person having their own variation result..
even using an expert skincare doctor, my acne is standing still..
because extent of my acne problem is getting more red and bad each day because hormone factor..
so don't expect too much and easily blame this product is bad if its doesn't fit on you..
but after using bangkokface_indo my college friends say that my face is even brighter and the acne is getting a lot better and smaller..
also, i felt when i apply foundation or washing my face is smoother than usually do..
acne spot and acne scars can cover perfectly only with foundation which sometimes is not ..
so what do you think??
Final Looks!
Final Looks!
ok enough to see all the pictures, swatches, experienced after been using 2 weeks and my selfie!
right now let's take a look description these products all about ..
please read detail and carefully, so you are not getting wrong to using and apply it..
read wisely, before you ask..
because i wrote it all down below...
Description of Product:
Bangkok face lotus sparkling mask
: the purification of beauty that is heart-worthy and well-match with Asian gorgeous skin. the skin lighteners for ultimate beauty solution. lotus sparkling cream is the ultimate all in one solution for whitening processes. it contains various extracts from the pure deep blue ocean that enhances cells energy reform as well as producting new healthy cells, repairing damages cells intensely up to DNA levels. meanwhile the key ingredients, royal lotus stamen extract, new innovative of whitening agents that directly inhibit tyrosinase enzyme naturally brightens and assists in keeping the skin clear as it protect your skin by acting as anti inflammatory as well. additionally, green carviar extracts which is one of those things that always has an air of luxury, contains almost all of essential amino acids that our skin needed, meanwhile, having moisturizing and emollient properties which help recovered aging, dried, and wrinkled skins. give your complexion a fresh, new start while also leaving your skin feeling smooth and soft with lotus sparkling cream.
Bangkok face gem fruit pudding cream:
the sparkling glow jewel to flawlessly server your skin. an all day all night natural cream repair that is formulated with the glowing jewel of Thailand, pomegranate extract, a gorgeous fruit with natural luxury scent that can be used as shortcut for beauty. it provides your skin with superior firming and moisturizing properties that help to fight against the ongoing effects of aging. pomegranate contains the high concentration of various phytochemicals that is well known for its efficacy in adding vitamins and minerals to your skin while reducing toxic substances. apple stem cells are rich in epigenetic factors which slow down pores damaging processes. meanwhile, dermcom from crocus chrysanthus acts like growth factor making your skin become delicate as silk returning moisture and youthfulness to your skin ultimately. furthermore, the hidden special feature is the texture of cream itself which resemble pudding. with our exclusive smooth and bouncy texture, you will be captivated by this fine piece of cosmetic that gives you a fun feeling and elastic sensation. therefore, put the power of thai herbs on your side, only to look younger and more beautiful as the result.
How is the texture and what is the function?
Bangkok face lotus sparkling mask
: the texture is wet and creamy.. the color is like yellow mango and the form is liquid (creamy). function is for whitening, uplifting skin, smaller pore, and anti oxidant. its gonna looks soft and health!
Bangkok face gem fruit pudding cream
: texture so soft like a cream but the texture is not creamy and dry fast so its not gonna dripping on your skin face. function is for the whitening, acne problem, scars acne, uplifting, and anti aging. over all this product is make your skin softer and health. then it work give more nutrition for your skin.
How to apply and direction bangkokface_indo skincare?
Bangkok face lotus sparkling mask
: apply cream thickly over your face and leave it overnight without washing off.. and for the perfectly result, using this product 2-3 times a week..
Bangkok face gem fruit pudding cream
: apply to entire face routinely day and night..
if you still want apply lotus mask after applied pudding cream, that is an option.. nothing does matter ..
you can do that as well..
What i love?
Bangkok face lotus sparkling mask
: make my skin softer and give more protection for my skin from dryness. also, my face its look much brighter and my acne is getting smaller.. love it how it work!
Bangkok face gem fruit pudding cream
: this product bring it back my baby face.. because when you using and apply it for couple of weeks it does work make your skin face uplifting and elastic! ;)
What i hate?
Bangkok face lotus sparkling mask: if you are apply too much on your face, the cream is gonna dripping down on your face.. so you need to make sure before you sleep its totally dry.. so you can sleep well without worry dripping on your pillow :p


Bangkok face gem fruit pudding cream: so far i love this product..
How much does it cost Bangkok Face?
it does cost 229.000 rupiah for each product..
net weight: 15 ml each small jar
Bangkok face lotus sparkling mask: Rp. 229.000,00
Bangkok face gem fruit pudding cream: Rp. 229.000,00
affordable price, with good quality and also result!
How to purchase Bangkok Face?
Bangkokface skincare Indonesia
go get em by contact person below:
Pin BB:
7CD470E2
Whatsapp :
+6287884495556
Email: bangkokface_indo@yahoo.com
so, i think thats all about my review..
let me know what you think..
please drop your comments on my post!
THANK YOU FOR READING MY BLOG!
good luck everyone!
Love/Lief/Tresno,
Clara
xxx