My skin care routine story
for acne, blemishes, and pimples face ..
with
Pasjel Cherry Tender Night Facial Cream
hello everyone.. how are you today?
and just what you see on my blog post, this is not giveaway..
but this is my skin care routine for against my acne everyday...
so many product i already try..
and nothing is really work on me..
just like what i wrote before on my blog, im having a thousand and million problem on my face..
so right now im such a crazy woman who try every product with acne problem solution on it ..
and still zero..
scars and pimples stay still on my face.. :')
mask, day cream, night cream, blemish cream, foam face wash and etc..
start from the cheapest product until very expensive product..
i already paid much for these skin care routine..
as you can see over here, most of all i'm using traditional skin care routine from mustika ratu (sariayu)..
also ponds for my day cream and night cream..
Estee Lauder for my serum routine ..
and this is my skin looks ..
pimples and scars is way too scary if you see it ..
even i already apply so many product on my face..
but still, it wont go away from my face..
i just having problem with my left and right cheeks..
my right cheeks my left cheeks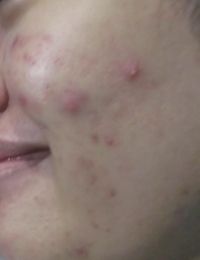 but i have no problem with center face area
and also my forehead ..
except my left and right cheeks..
i'm a bit giving up to make my face back to normal again..
My center area face my forehead area
it's been from my first college life since 2010 until now i'm fighting with my face problem..
so its been 4 years i'm having this problem on my face..
even though i already apply for my day cream and also night cream..
but this pimples wont go away from me :')
i paid much for my skin care routine..
and this is ridiculous, nothing work on me..
Pond's night cream Pond's day cream
and just yesterday i saw someone blog, her name is
Xiao vee
..
she made free giveaway on there with a few sponsored..
one of her sponsored include
Pasjel
Indonesia..
Pasjel
having a few product:
and its come from Thailand and most famous skin care product in Thailand .. <3
blue: for whitening
yellow: stretch mark solution
violet: skin armpit
and the last pink for Pimples problem solution..
i wish i can try it for once ..
here's the picture..
why do i need this product?
because i already saw so many testimonial which is very positive from their customer.
and also their face is getting better every single day..
so if i can win and get this giveaway..
so maybe i can prove it by myself about the truly function from this
Pasjel
product..
and then i will share with all the women in this world..
wish me luck
and
thank you for reading my blog :)
xx
I'm joining Xiao Vee's 2nd Blogiversary Giveaway